Kayaking the Potomac below Great Falls
Mather Gorge, Great Falls, Yellow Falls, Vaso Island, Stubblefield Falls, Calico Rapids, Offut Island, Widewater
I built this site to give people the feeling of touring the water below Great Falls. Not many photos are out there such as these -- this is mostly because few people are stupid enough to take their camera into a kayak.

Jumbo sized versions for use as your Desktop Wallpaper (so feel free to use them :-). are also available. Simply click on the picture several times to get to the biggest size

Many of the pictures are linked to Aerial photos pointing to the exact locations of a site

Please don't go to these spots unless you are an experienced kayaker, you know the risks, you take precautions, etc. etc.
K1 Slalom Kayak
Galasport Toro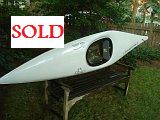 (for details, Click Picture)